Money Heist: The Experience
How to build a heist…
Have you been daydreaming of donning a red jumpsuit and joining an international gang in a thrilling heist? 
Bailes + Light is excited to announce Money Heist: The Experience, London – an original experience by Netflix and Fever that will sweep you up in a first-person immersive heist adventure filled with adrenaline and suspense.
How do you build a seamlessly thrilling immersive experience? 
We were invited to bring our expertise in lighting, immersive theatre and sensory technology to enhance Money Heist: The Experience in London. This gave us a perfect opportunity to put our new OSCHII interactive technology to the test. 
The Money Heist experience takes visitors on a wild ride using atmospheric sound and lighting, billowing smoke and realistic theatrical sets. Participants test their security cracking skills by hacking into the CCTV, piecing together a 3D map or navigating a laser maze.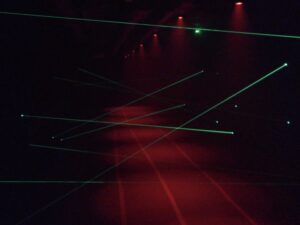 OSCHII helps build tension and drama by driving escape games through its interactive engine and linking a game's progress and outcome directly to changes in light and sound. Interactive button technology across the site helps to queue aspects of the story and move a high number of visitors through the experience at any one time. 
By using OSCHII we were able to quickly integrate many aspects of this complex immersive escape experience – a process that has previously taken many weeks and months of planning to work out. Our new technology makes these integrations faster and less difficult , allowing creators to spend their time tweaking the user experience and doing the creative work they do best.
Building immersive experiences like Money Heist can be a complex and difficult undertaking.
OSCHII offers straightforward, cost-effective integrations to help create thrilling immersive adventures
Get in contact