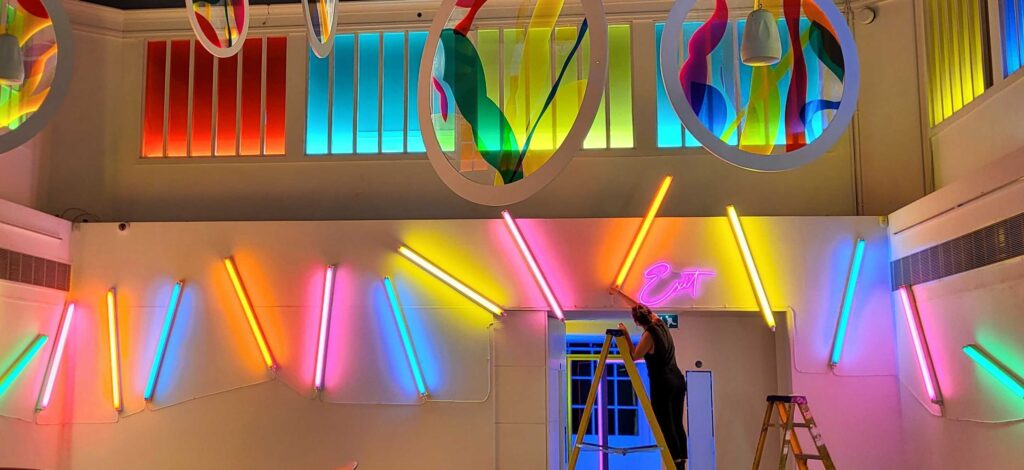 Whilst music festivals have been getting attention for their serious gender imbalances in performer lineups, behind the scenes, the teams who help deliver festivals such as audio and lighting crews have an even more serious gender problem.
For example the BBC found that only 13% of headliners at the UK's top music festivals in 2022 were women. And beating that statistic by an unhealthy margin – just 5% of audio engineers are women.
The visible & invisible barriers to women and non-binary people in technical lighting and audio crews are manifold. From blatant sexism and harassment (within the music sector over 60% of workers have experienced sexual harassment), to assumptions of male competency, to gender pay gaps, and so on.
So how do project leaders address this problem?
Bailes+Light director Benji Bailes has been working to improve crew diversity across all their projects. For Greenpeace at Glastonbury Festival they just recently hit an important milestone – only 30% of the 21 people working on the lighting team were men. Over 50% were women, with the remainder being non-binary.
The 2022 crew at Glastonbury reflects the outcome of successful networking across other Bailes+Light projects. "We still have a lot of work to do, but have a number of highly experienced industry professional women to call on for our projects now", says Bailes. "I think it reflects a lot of the work being done in various colleges up and down the country."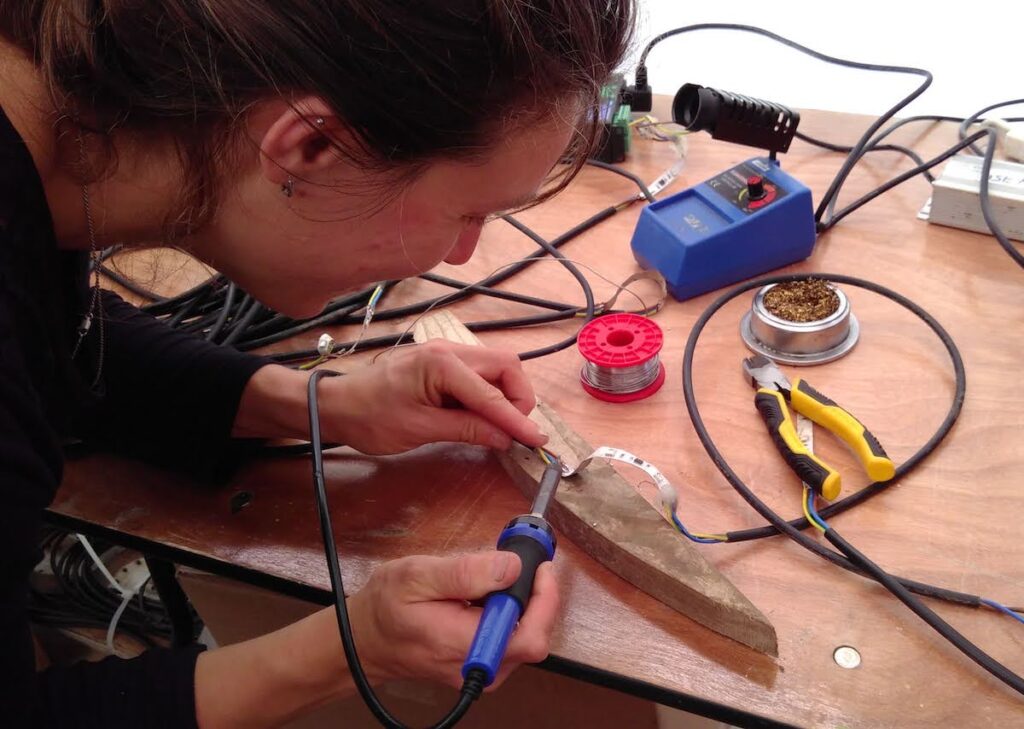 Building a team based on gender equality is not only about equity, it also produces a better experience for everyone: "As a non-binary person I have often felt more comfortable working in teams made of varied and flourishing individuals, away from the dominant masculine culture of traditionally-shaped crews", says Bailes. "A more diverse team – be it across gender, race or socio-economic status – brings a more true-to-life work culture in an environment that encourages participation of many voices.
While at Bailes+Light we can be immensely proud of our record on gender, we have a long way to go to meet a more true-to-life representation across our entire workforce.
We thought we'd share a few tips to help other companies on their way.
1. Appoint a Diversity & Inclusion (D&I) lead and resource them
It might sound obvious, but you need someone who can do the groundwork and hold the process. Our D&I lead spends a significant amount of her job researching and reaching out to people and organisations. She works regularly with directors and makes recommendations on how to approach core business activity in new ways. When considering bigger projects, it's safer for this to be a full-time role in itself.
2. Recruit tenaciously and thoughtfully
With women still representing such a small percentage of the technical workforce, recruiting might seem an impossible hurdle. "If it seems like it's hard to find people, then keep looking! Don't be afraid to try working with new people you don't know very well. Consider what biases you might hold yourself about people and abilities then work to undo them. It's super rewarding and you very quickly realise that you are able to create spectacular experiences and features with diverse teams", says Bailes.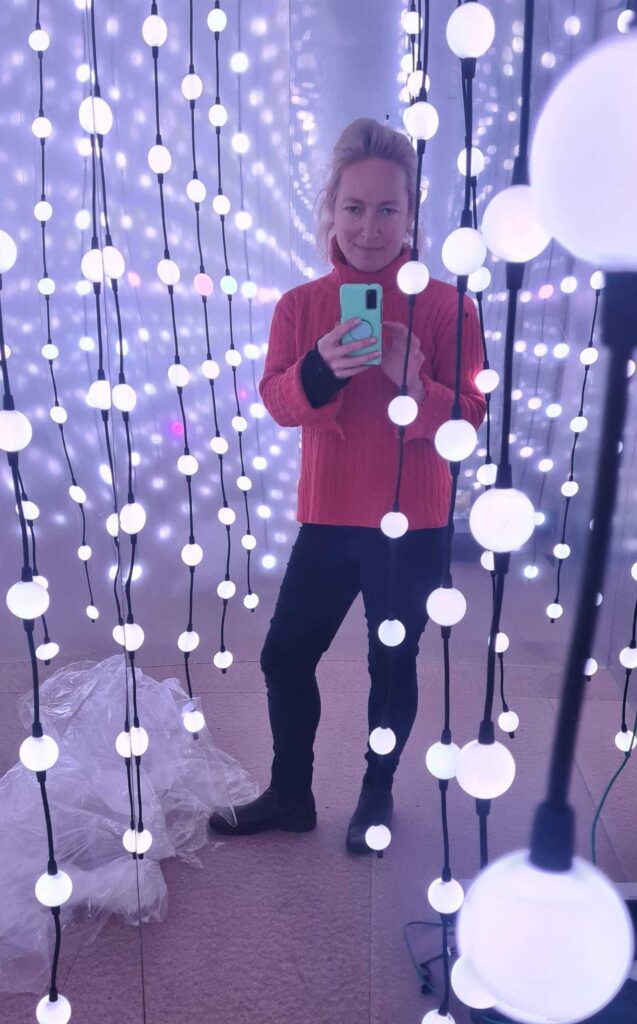 3. Rewrite your job advert
Examining and rewriting your job adverts and crew callouts can be an important place to start. There are plenty of resources available to help with gendered language. A simple Google search of 'gendered language checker' will set you on the right course. Another barrier might be the way the job description is written. When it comes to a full job recruitment process, be careful what you put down as an 'essential' requirement and instead angle a JD in a way that people from all backgrounds can genuinely engage with. Some people may have the skills you need but not necessarily feel confident in applying – make a point of widening the potential pool.
Resources:
4. Post to job boards that draw diverse groups
Where you recruit is also important. While it may be quick and easy to post a job on your own social media channels, this only leads to employing people within your own networks. Bailes+Light Diversity and Inclusion (D&I) lead Eva Arnold has been working to improve hiring practices across the business. "Having the right ethics isn't enough", says Arnold. "You need to put time – and therefore company money – into looking for job boards that target diverse groups and organisations who specialise in promoting jobs to more diverse audiences. Of course the good news is that when you've done this once, then you have the tracks to go back over and the relationships are already established next time you come to recruit!"
Resources:
5. Set gender targets and stick to them!
Setting targets and being persistent in pursuing them has been integral to achieving gender equality in the Glastonbury crew. "I will always prioritise someone who is not male over someone who is – assuming they have comparable skills. Call that positive discrimination if you will", says Bailes. "I won't stop looking for crew members if I am missing my target. Sadly this has meant that I have had to drop experienced technicians from the project to make space, which obviously has real-world consequences, but these hard decisions in the long term will create a more representative working environment for everyone if handled sensitively".
6. Pay well
Festivals have a long tradition of relying on volunteers. This creates economic barriers to genuine diversity and inclusion and skews teams toward white, male and middle class workers. "Inclusivity comes down to money." says Arnold, "If you want all kinds of people to work for you, then you need to pay them competitive rates, rather than making unspoken demands that they resource themselves adequately to work for lo-to-no wages. Budgets need to reflect that".
Implementing a gender pay gap report can also be important to address more hidden imbalances such as recruiting more women into voluntary, or lower ranked (and therefore lower paid) positions.
Resources:
7. Don't rely on volunteers
Within the Greenpeace at Glastonbury project, Bailes has persisted with blanket negotiations with senior management to achieve a more transparent pay model and higher wages for the crew. "This was always previously the most tricky barrier to recruitment", says Bailes, since festivals traditionally ask people to do a lot of volunteering. To make the project fair and attractive to more people, Bailes+Light removed almost all of the 'voluntary' requirements that were imposed on our Glastonbury crew at large.
8. Create visibility within leadership!
Creating a positive team culture is key to retaining team members. Much of this can be created by having a representative management team. "Ensure women, transgender and non-binary/gender-queer people are in positions of leadership and ensure that the entire team is well supported", says Bailes. The lighting team for Greenpeace at Glastonbury include a non-binary department head, and female crew chiefs for both the build and the event.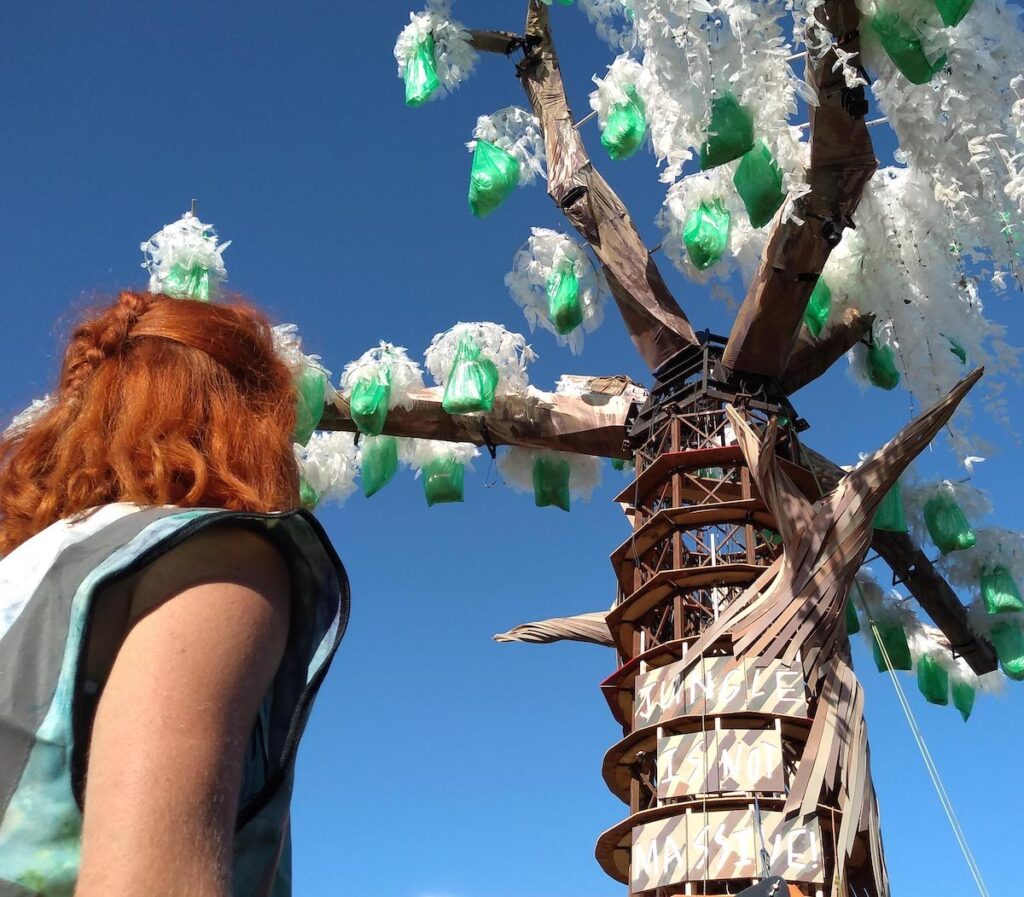 9. Check In with each member of your team
You can only help create an inclusive culture if you give everyone the space to contribute. Create space for everyone on your crew to have a voice, whether through regular check-ins as a team or on a one-to-one basis. Managers and supervisors shouldn't shy away from calling out misogynistic behaviour and challenging problematic individuals. Let diverse perspectives flourish.
10. Be intersectional
Ensuring people are paid a fair wage for the work they do, wide and intentional recruitment, creating a supportive team culture and employing positive discrimination not only leads to gender equality, it leads to real-world representation. "The starting point is being prepared to pay more and to do the work to address the imbalance", says Arnold. "This is where the intersectionality of diversity plays a positive role – it becomes about workers rights, which are often eroded in festival and some event settings. It's those rights that are the paving stones of diversity."