The Glastonbury Festival Rave Tree: Greenpeace
Greenpeace's Rave Tree returned to Glastonbury Festival for the third year running, having grown an incredible 3 metres since the festival last opened its gates. The Rave Tree now boasts a more natural aesthetic and interconnected ecosystem thanks to enhancements to the canopy lighting effects and a bevy of nature-based light installations by guest artists.
When the Rave Tree first sprung to life at the Greenpeace field in 2017 it was an 19m tall metal giant. Over the years we have continued to develop the tree's naturalistic elements. The canopy is an installation made up of 60 chandeliers. Each chandelier, or 'bud' as we like to call them, is made of hundreds of pieces of recycled plastic sculpted into leaves in a process developed by creative Emma Corck. Garlands of light are suspended within these buds and individually pixel-mapped to create a multitude of lighting effects. In total 1250 LED globe lights adorn the tree canopy, radiating season-inspired colours and movement effects reminiscent of a living, breathing organism.
The narrative behind the Rave Tree has been evolving to include recent developments in our understanding of symbiosis between the plant and fungi kingdoms, and that of soil health. Amplifiying these discoveries to a new audience has become a priority for Rave Tree lighting designer and activist Benji Bailes.
We have created an ever-expanding 'ecosystem' for the Rave Tree, adding in smaller satellite trees, giant leaves and illuminated bracket fungi created by artist Harriet Wallis.
This year we wanted to build a deeper connection between the audience and the DJ by making the buttresses more animated. Working with artist and educator Poppy Flint we created illuminated trails of mycorrhizal fungi, inspired by the way that trees communicate with each other chemically through the mycelial network. This network intertwined with the roots and connected the canopy to the forest floor.
This year we also introduced the Sun Stage to this growing ecosystem. The Sun Stage was designed to work together with the tree as a force for life, passing energy across the field through its nourishing rays of light.
The sun rays themselves were sculpted timber frames with fabric netting stretched across, which provided an effective projection surface and a space for key Greenpeace campaign messaging.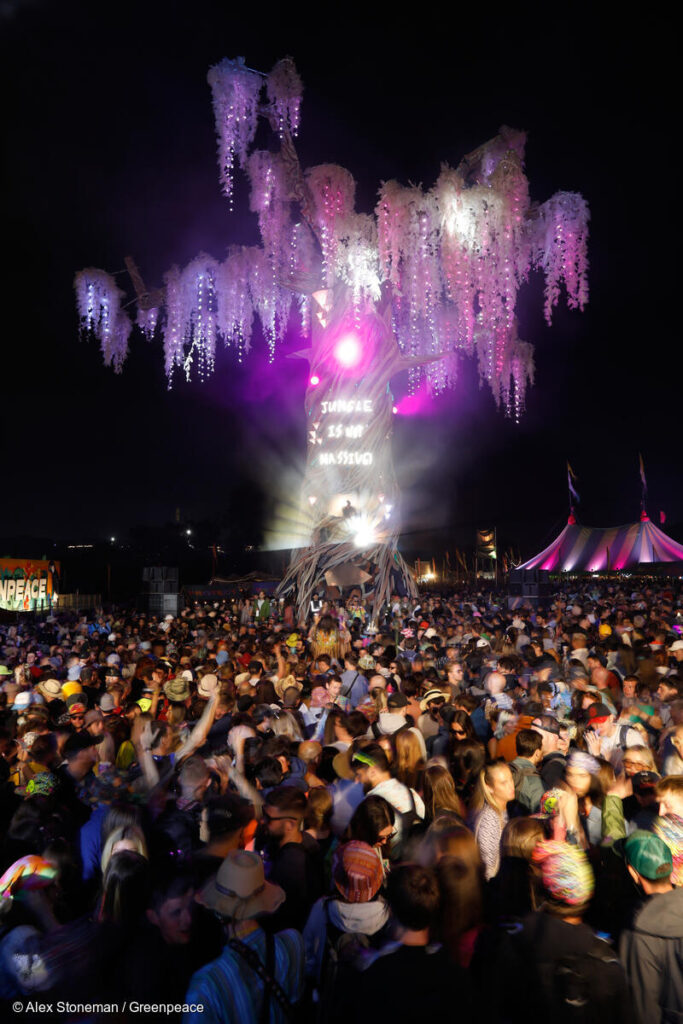 We brought lighting designer Belinda Best on board to further conceptualise and develop lighting palettes that would emulate the sun's energy. She achieved this through a multitude of profile lighting fixtures (kindly donated by Chauvet) rigged across circular trusses at the front and rear of the stage, and an array of 'eye-candy' effects.
Projection content for the rays was created especially for the installation by visual artists Stella Belle Hex and Matt Black (Coldcut).
As we've worked to develop a more natural tree, connected to and in balance with its ecosystem, we've also been working to address imbalance in the gender representation of our own production team. Across lighting we're now made up of over 50% women, the remainder being men and non-binary folk. Being inclusive in this way has improved our team culture and productivity.
On the Thursday night of Glastonbury, after two weeks of challenging and rewarding work, the crew came back together to dance beneath our collective creations.
Our Greenpeace Field as captured by the crew.
Additional video by Benedict Addis, Barri Mason, Eva Arnold and Viktorija Sevelkaityte.
Get in contact