Can you feel it?
Virtual reality is no longer limited to what you can see – engaging all the senses is a new way to immerse your audience in a virtual world.
Good feelings
Multisensory VR is changing fast, but we pride ourselves on our experimentation and inventiveness which helps us keep up. The effects we've built for multisensory VR didn't exist before we developed them. We're really excited to explore the limits of what multisensory VR can be, and to help clients achieve their vision as the industry develops.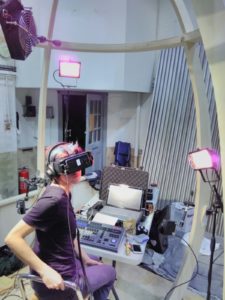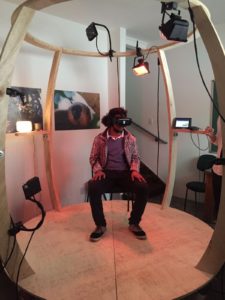 Bailes and Light are not only great at what they already do, but open to new challenges and were fantastic to work with. They designed a bespoke system quickly and easily, which not only did the job, but was technically robust and within our modest budget. They were with me every step of the way installing the system in Brazil, the US and Argentina. To top it all, they're lovely guys and a pleasure to collaborate with. I look forward to working with them again.

Grace Boyle, Director, The Feelies
The cutting edge
We're used to building custom electronics and integrating them with computer software, which makes us well-placed to help you step up your VR experience. We can design and install the kit you need to upgrade standard VR, or we can create an entirely new experience.
Able to design and build custom hardware to generate multi-sensory effects.

Experienced in integrating hardware and effects with software to run along with VR.

We adapt and invent new products in a fast-paced industry, keeping your VR as good as it can be.
Get in touch